Stephanie True Allin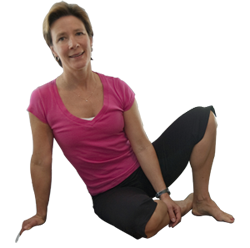 Stephanie has been an active fitness and recreation participant for most of her life.
She began at age three, studying dance (modern and ballet) with what is now The Minnesota Dance Theatre. Although self-proclaimed as "never professional material – especially in ballet," Stephanie continued dancing at an amateur level, finishing her dance time with the Bates College modern dance company in Lewiston, Maine.
A love of physical fitness and recreation has kept Stephanie's adult life active. An fitness participant for many years, she continuously worked on physical conditioning while maintaining the pace of a marketing and advertising professional (Stephanie has a bachelor of arts degree in psychology and a master of arts degree in communications). "Fitness was what kept me sane," she claims.
When she relocated to Guelph, Ontario, from the United States, Stephanie became involved in fitness as a professional. She currently holds instructor certifications as a trainer of trainers (YMCA Canada), personal trainer (Certified Personal Trainers Network – CPTN) and group fitness (spinning, muscle conditioning, cardio) instructor as well as…
PILATES!
Stephanie began exploring Pilates as a participant, moving on to study as an instructor at Merrithew Health & Fitness™ STOTT  PILATES® in Toronto, Ontario, where she earned her certification in mat + small equipment exercise instruction in 2000.
In addition, she has completed the STOTT PILATES Intensive Reformer training and earned her certification at Pilates Body studio in Mississauga, Ontario.
One of Stephanie's great interests is in training clients involved in athletics. She is certified as a CORE™ Athletic Conditioning & Performance Training™ instructor through Merrithew Health & Fitness.
Stephanie is also certified in group fitness instruction with Can Fit Pro and has completed personal training requirements for Certified Personal Training Network (CPTN). She has been a personal trainer and group fitness instructor at the YMCA-YWCA of Guelph for 15 years and is, in addition, certified by YMCA Canada as a Trainer of Trainers.
She has conducted specially designed workshops for Fitness Instructor Training Groups throughout Ontario, the Wellington County Separate School Board, the Guelph Academy of Dance and others.
In endorsing the method she teaches, Stephanie quotes STOTT PILATES' simple, yet profound trademark statement, "Intelligent Exercise." " It just makes so much sense for life," she says. "When you go to your tool box for a selection to complete a job, why not select only the tools that you need? That's what I see Pilates training doing for those who work at it. They are better able to specifically recruit the muscles they need for a task – and let the others take a break." What motivates her most, she says, is her students' increased sense of confidence in themselves, gained through the discovery of power and ease of movement that can be achieved with intelligent, thoughtful body conditioning.